The Whole Crazy Ride
Well, some of the highlights anyway.
 Early Graduation
I left school in 9th grade when I was 15… it was never a fit for me and I never went back. (They never called to see where I was either). I did spend endless hours in libraries… studying things that interested me. My home library is piled high with physics, marketing, advertising, history and self-improvement titles.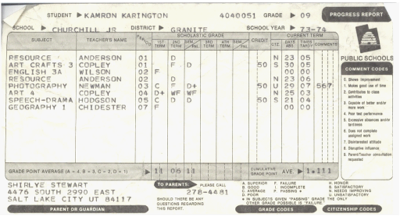 Looks like a solid "D" average if you ask me…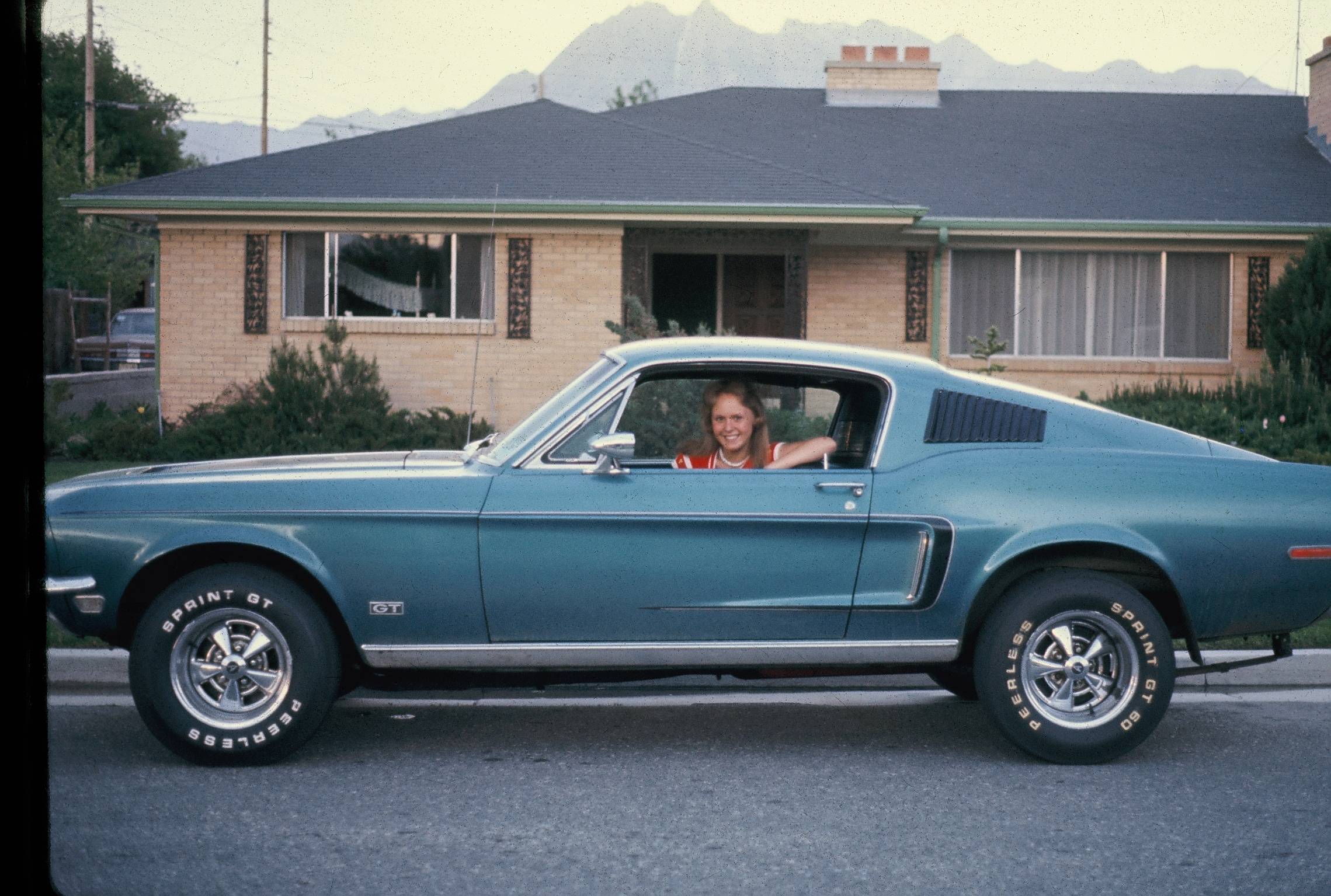 This young lady shall remain anonymous
Wild
From 15 to 18 I had more fun than I can get into here. Waking up in a car in an Oregon cow pasture should give you an idea though. Had one of the coolest cars in town too. Not long after my 19th birthday, the trajectory of my life was altered forever…
Life turns on a dime
I met Art Pedersen when I was 19. He was the coolest guy. We became instant friends. He'd just returned from touring in a band. Eventually his ex-brother-in-law hired him to dee-jay at a nightclub. It looked like an exciting job and I wanted to do the same. Art hooked me up with my first gig. I can never fully thank Art for taking me under his wing – but I did buy him that fancy guitar as a token of my gratitude.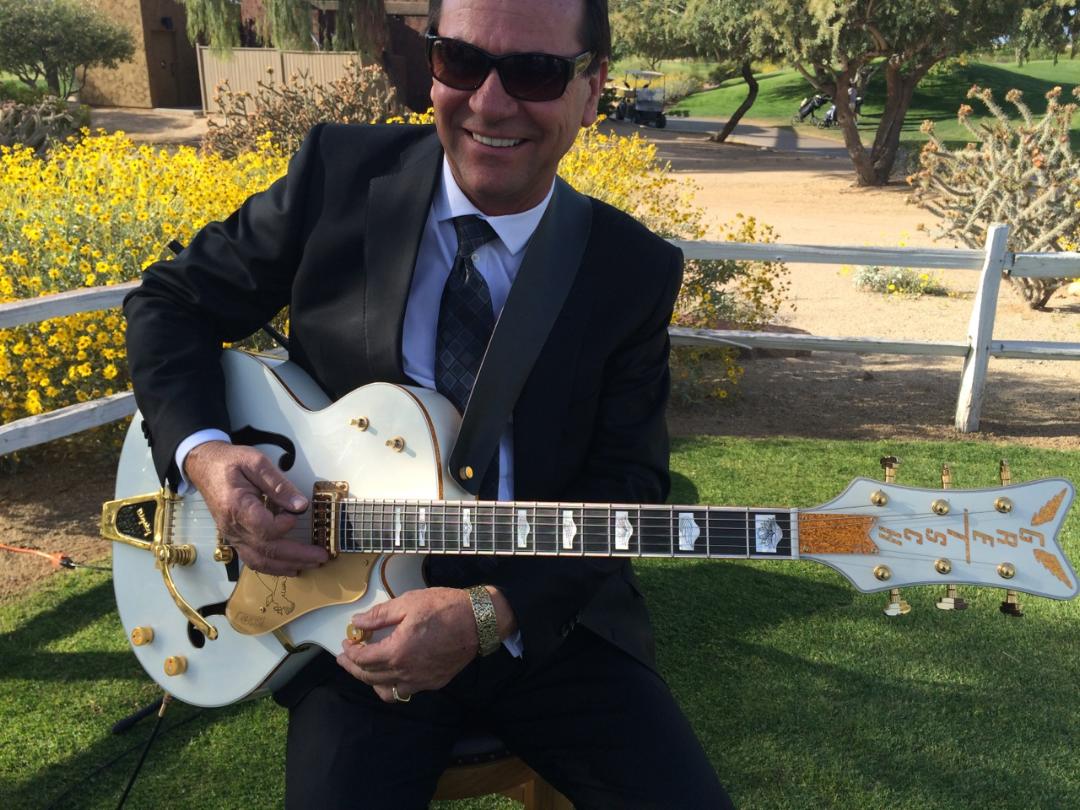 Art playing his Gretsch White Falcon

Getting paid to party – nice!
Dee-Jay Days
Wow, I can't even believe how long ago this was… I worked (if you could call it that) as a Disco-Dee-jay for a few years. Started when I was 20. Free booze and lots of girls. Great time.
Silver
Working as a Dee-jay… I decided one year to invest every extra dime I could into silver. I bought at around $5 an ounce… sold at $14. That was my "stake." Every thing I did from that point on can be traced back to that year. (Man I'm skinny here… I had just quit smoking and started jogging – a lot).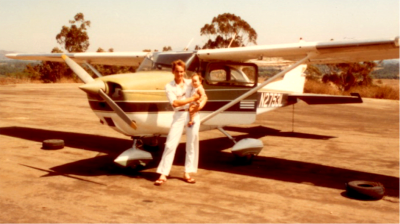 Kalani and dad getting ready to go somewhere
Flying
I made a phone call to find out "what it took to learn how to fly" Bob Jenson, the owner of the flight school said: "A lot of money." I was training in a Cessna 152 the next day. Bob remains a great friend to this day. I bought a Cessna 172 while taking lessons. That's me and my very young daughter, Kalani. I'm 24 here.
Dance Clubs
Of course, I quickly realized that the real money was in "owning" the club… not working in one (good thing I bought all that silver)… so that's what I set out to do.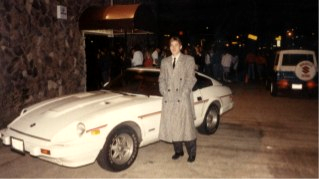 In front of the Maxim, my third club
Marketing Start
I'd already been towing banners as a sideline for a couple of years. Now I started trading banners for radio ads. It was great because I could get non-stop radio to promote my club in exchange for a few hundred bucks in aviation fuel every month.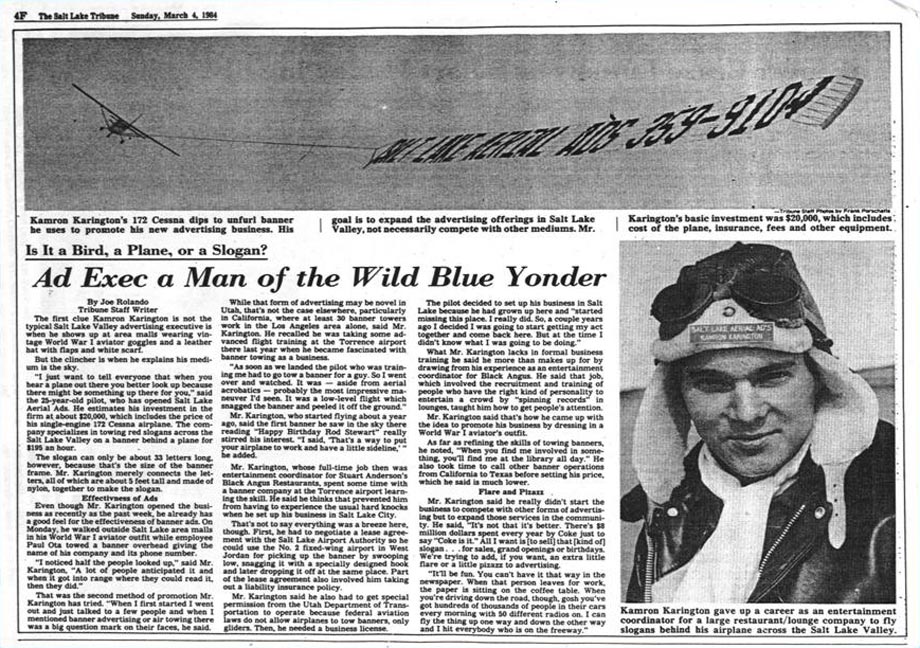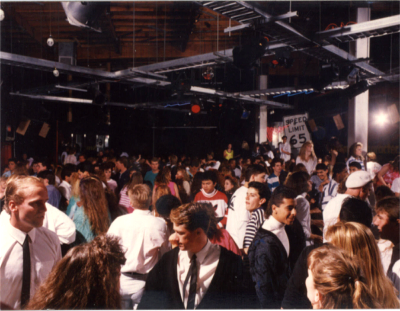 The Maxim was cavernous, holding close to a thousand people
Inside, $7 a head…
…adds up fast. But then a friend of mine, Larry Serrin who also owned a nightclub… produced a record by a guy named Anthony Ray (Larry's DJ). It was a huge hit. I figured if Larry could do it – so could I… Oh, Anthony Ray went by the name of "Sir Mix-A-Lot."
Then it Got Even More Interesting
I gave Sir-Mix-A-Lot one of his first gigs. My good friend Larry Serrin was Mix's manager.
Then, when Mix's first record started heading north of 500,000 copies… I decided that "if Larry could do it… I could do it" and I jumped into the record biz with both feet…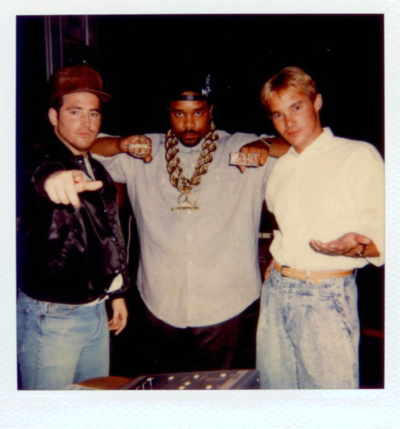 Larry on the left, Mix, me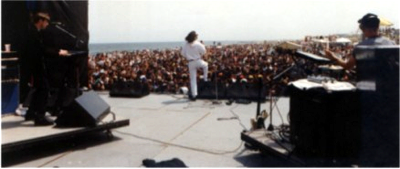 Playing to 200,000 people on the beach in New Jersey
Record Business
I found the proverbial "struggling band" – outfitted a recording studio, and produced their first record. We sold a quarter-million CDs, had videos on MTV and a nationwide tour. I took this picture of Cause & Effect playing an MTV show in New Jersey. A riot broke out shortly after the next act took the stage and the remaining tour was cancelled…
Felony Silly String Arrest
Sitting at a stoplight on the way to a video shoot, I sprayed a can of silly string at the car in front of me (carrying some of the band members). Rather than landing on the car… it formed a large cloud that wafted right onto the windshield of a passing LAPD patrol car (he was not amused). Got the band a ton of publicity… Dan Rather even mentioned the story on the "Evening News." The cop was a jackass… and the charges were dropped…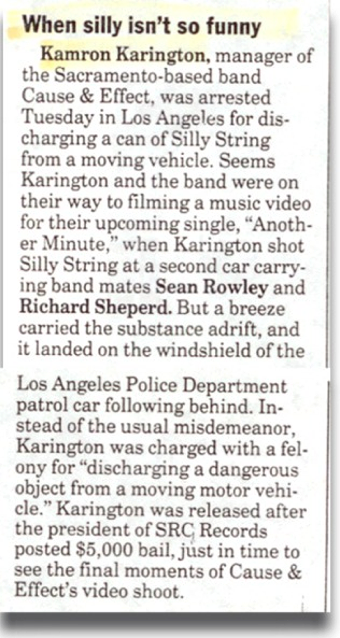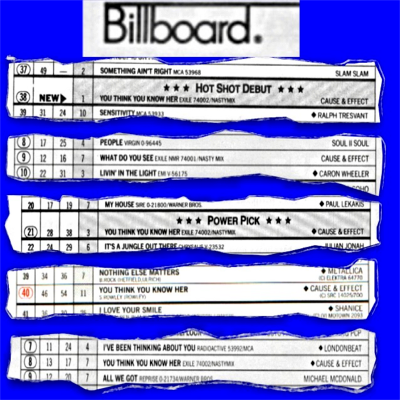 Riding high with Top 40 and Top 10s in Billboard
Charts, videos and tours
We did well – charting a top 10 on the Dance Chart and hitting the top 40 on in Billboard Magazines Hot 100. Two videos on MTV and a Nationwide Tour followed… then tragically, the keyboard player, Sean Rowley died from a massive asthma attack during a sound-check in Minneapolis…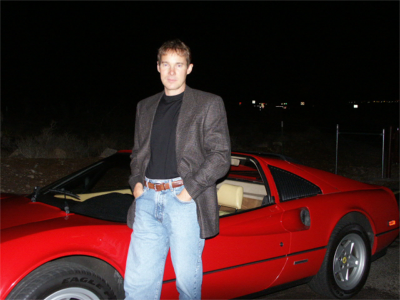 Yes. I did blow some cash on cars…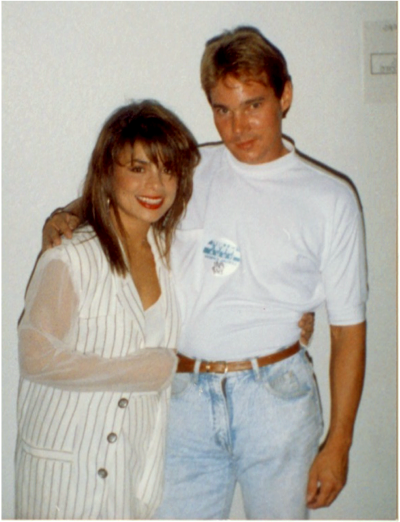 Paula Abdul…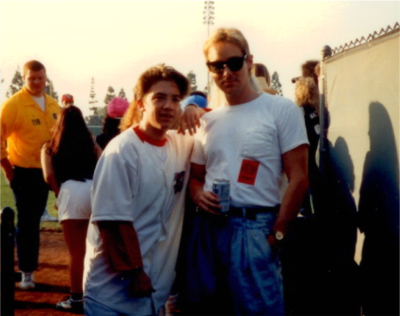 Remember Bud Bundy from "Married With Children?"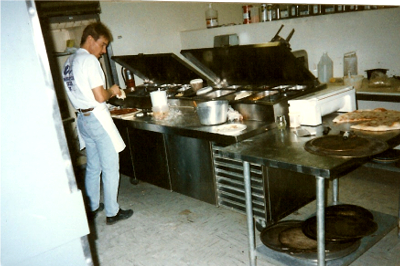 Knocking out pizzas
Buy your pizzeria?
Then, on a very fateful evening, while calling to get tickets to the Rolling Stones… I ended up buying a run-down, nearly bankrupt pizzeria (huh?). After achieving massive success (sales up $137,000 a month) I authored the Black Book to help other independents make money in a tough business. That catapulted me into a 5-year blur of speaking, consulting and writing.
My restaurant buddies
The Pizza Expo parties at my house were legendary. I even lined up a tour bus one year to bring everyone over from the hotel (so as not to clog my whole neighborhood with cars)…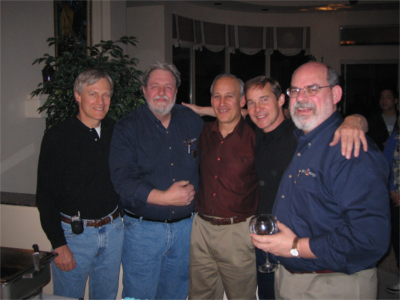 Jim Laube, Big Dave, Jay Siff, Me, and Bill Marvin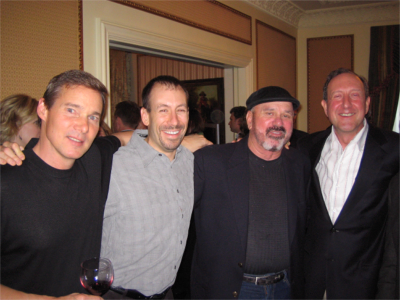 Me, Joe Polish, Gary Halbert, Gary Bencivenga
$5,000 a head. Only 100 allowed…
Hanging with advertising royalty. Only 100 marketers from around the world got the opportunity to attend Gary Bencivenga's closed-door copywriting summit in New York City. Gary has crafted some of the most successful ads in the modern era.
Mr. Olympia
At Jay Cutler's house (right next door to my house) at his Mr. Olympia party when he won the title… (formerly held by Arnold Schwarzenegger)…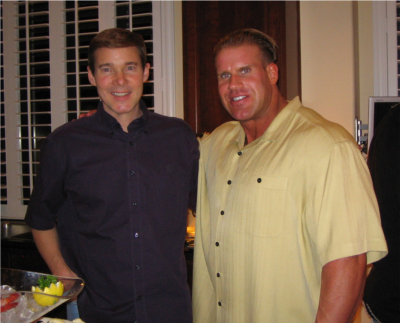 Me and Mr. Olympia (that's him on the right – LOL)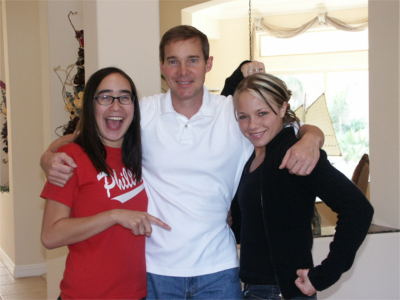 My girls
My daughters Kalani and Brooke – I'm very proud of both of them…
Rolling Stones
At the Rolling Stones in London at the O2 arena… did they say no cameras? It was their last show of a three year tour… what a blast!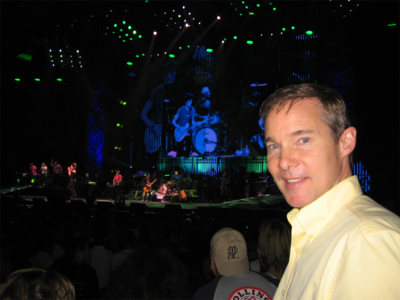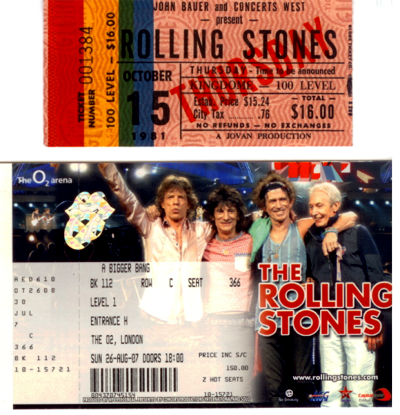 A Bigger Bang
Check out the ticket from my first Stone's show in 1981 (I thought $16 was outrageous)… the last ticket is priced in Euros… that translates to $225… (worth every penny).
On top of Diamond Head 6:12 AM – recently…
During a recent interview I was asked, "If you could go back and change anything, what would it be?"
Nothing… absolutely nothing…